Joshua C. Richards, M.D., M.P.H. Stanford Assistant Clinical Professor
Former UCSF Assistant Clinical Professor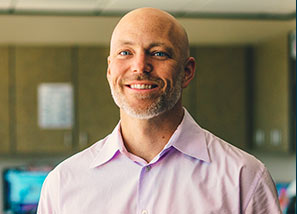 Joshua C. Richards, M.D., M.P.H.
Specialties
"I like to learn about each patient's injury and lifestyle in order to develop an effective treatment plan. When I'm not working, I enjoy spending time with my family and exploring all that the Bay Area has to offer."
Credentials
Fellowship: Hand, Upper Extremity, and Microvascular Surgery
Board-Certified, American Board of Orthopaedic Surgery
Fellow, American Academy of Orthopaedic Surgery
Member, American Society of Surgery of the Hand
Dr. Richards obtained his undergraduate degree in neurobiology at Cornell University, his masters of public health at Columbia School of Public Health, and his medical degree at New York Medical College.
He completed his residency in orthopedic surgery at the San Francisco Orthopedic Residency Program. He then returned to Cornell University's Hospital for Special Surgery to complete his fellowship training in hand, upper extremity, and microvascular surgery.
Dr. Richards volunteered locally for Operation Access and San Francisco General Hospital, helping provide upper extremity care for Bay Area's uninsured population and education for orthopedic residents.
He has volunteered in Africa, as well, and has joined the disaster relief teams in Haiti.
Recognition
Dr. Richards is honored to be recognized as one of the Best Doctors in America for the East Bay Region for 2014 and 2015. Click to Learn More
Dr. Richards was recognized by America's Best Physicians in 2016
Assistant Clinical Professor - Volunteer at UCSF
Lectures
Current Treatment of Tennis Elbow,

Frontiers in Medicine, Jackson Hole, WY 2017

Duypuytrens Disease,

Frontiers in Medicine, Jackson Hole, WY 2017

Elbow Fractures and Dislocations,

San Francisco Orthopedic Residency Program, 2017

Latest Treatments of Elbow Arthritis,

San Francisco Orthopedic Residency Program, 2017

Functional Anatomy of the Shoulder,

UCSF/UCB Medical School, 2016

Finger Amputation and Soft Tissue Flaps,

San Francisco Orthopaedic Residency, 2015

Wrist ligament Injuries

UCSF "Doctors Demystify The Hand" Course, 2014

Mallet and Distal Phalanx Injuries,

UCSF "Doctors Demystify The Hand" Course, 2012

Shoulder Multidirectional Instability and Frozen Shoulder,

UCSF "Doctors Demystify The Shoulder" Course, 2011

Common Shoulder Injuries – Impingement, The Rotator Cuff, and A-C Joint dislocations,

Alameda County Chapter of California Chiropractors Association, 2011

Elbow Fractures,

San Francisco Orthopaedic Residency, 2010

Wrist Instability – Scapho-Lunate ligament Tears,

UCSF Orthopaedic Residency Program, 2010 and San Francisco Orthopaedic Residency, 2009
Publications
Links
Elbow Procedures:
Arthroscopic Debridement Elbow
Ulnar Nerve Transposition
Hand Procedures:
Distal Radius Fracture Repair With Volar Plate
Finger Fracture Fixation
Ganglion Cyst Excision
Limited Palmar Fasciectomy Dupuytren's Contracture
Open Carpal Tunnel Release
Scaphoid Fracture Fixation
Trigger Finger Release
Shoulder Procedures:
Biceps Tenodesis
Distal Clavicle Excision
Subacromial Injection
Patient Reviews
"Webster Orthopedics - San Ramon Office - I have never walked into a doctors office for a 1st appointment feeling like I was someone they have known forever. This started with the woman who greeted me at the front desk, another who was helping someone else but took that second to greet me, to the woman who took me to a smiling X-Ray Tech, and especially Dr. Richards, who didn't look at a clock and wanted to make sure I understood what he had told me and was so patient at any question I would have asked. Each individual (and there were others that walked by) smiled, greeted warmly and made me feel special...Amazing, looking around - they did that with everyone!!!! BIG KUDOS to the staff at the San Ramon Office - IMPRESSIVE IS AN UNDERSTATEMENT! Still smiling....thank you!" – J. Archuletta
Related Videos
Joshua C. Richards, M.D., M.P.H.
Pleasanton
5275 W Las Positas Blvd
Suite 200
Pleasanton, CA 94588
Phone: (510) 763-0884

Stanford Orthopedics
6121 Hollis Street
Suite 900
Emeryville, CA 94608
Phone: (510) 763-0884